UOB Paintings of the Year Reimagined – Utopia Festival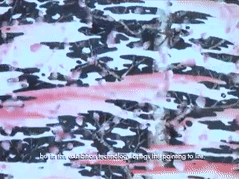 "Paintings of the Year" is a yearly competition hosted by the United Overseas Bank (UOB) to recognize and celebrate local artists. We were commissioned to create a special installation for their presence in the Utopia Festival Singapore. Following several discussions and prototypes, we created "UOB Painting of the Year Reimagined".
The "UOB Painting of the Year Reimagined" exhibition is an interactive art display where technology and art merge to encourage the audience to experience and to appreciate paintings in ways never seen before. In this exhibition, 14 award-winning paintings from the UOB Painting of the Year collection have been digitally deconstructed and re-imagined to draw attention to the finer details of the artworks. These animations and soundscapes were interspersed within a starfield of hundreds of artworks.
The installation consisted of 5 iPads that each drove a massive 90 inch screen, running for 10 days in the busy thoroughfare of the UOB atrium. (Over a 1,000 direct daily interactions – with many more impressions.)
The work was commissioned for the Utopia Festival Singapore 2013 by the United Overseas Bank . The screens were generously provided by SHARP electronics.
Team
Mark C Mitchell, Emila Yang, Hanley Weng
Many thanks to Jess Hii – an outstanding festival director for Utopia, whose ability to juggle countless tasks whilst being insatiably curious, is truly inspiring.
Process
Initial interactive concepts and prototypes were created, serving as discussion points, and leading us to signing off on the general concept of an installation to explore and augment existing artworks. A few rough sketches were initially done to help refine the brief further with the clients. 3D models were constructed and played with to get a better idea of the remote space, and the physical impact of different concepts.
Additional collaborators were pulled in as we began cleaning and processing the paintings data set with batch image manipulation, mood-boarding, animation, sound design, user testing, and eventually higher-fidelity mockups. We selected iPads to drive the massive displays. We also pivoted our UI, switching from typical UI layouts (UITableView) to a game engine (SpriteKit, shaders) so we could produce customised bokeh-like visual effects.
The final phase took place in Singapore, where we spent our time coordinating logistics, setting up, and refining the work for public release.